At Atlas Plumbing, we are pleased to announce that our very own co-owner, Sunshine Ray, has been named a Top Business Professional by Continental Who's Who. This recognition is due to her hard work when it comes to the branding, marketing, and Atlas Plumbing's overall image.
Because we are a family business, Mrs. Ray got her start quite early on. As a young girl, she often followed her father and founder of the company, Bob Ray, on service calls, assisted on small jobs, and handled small bookkeeping tasks. This fostered a dedication to strong work ethic from a very young age.
After completing a Bachelor of Science in business marketing from the University of Nevada, Las Vegas in 2004, Mrs. Ray began her professional endeavors by starting the first airbrush tanning salon in Las Vegas. Following this, she used her experience to obtain her sales broker license and continued in this role until the Great Recession of 2008, brokering the sale of many homes and businesses throughout the Las Vegas valley.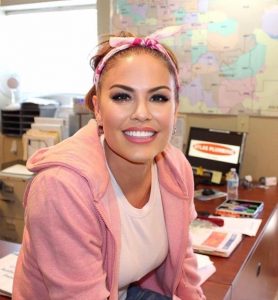 Mrs. Ray also has over 20 years of experience in the food and beverage industry, working at the Hard Rock Hotel in Las Vegas. She utilized her experience to work with her celebrity chef husband, Johnny Church, and open Johnny C's Diner.
As co-owner of Atlas Plumbing, Mrs. Ray has earned a fabulous reputation as a woman in the plumbing industry. Her goal for the company has been to establish it as one of the premier plumbing companies in Henderson and the Las Vegas Valley when it comes to offering services that utilize cutting edge technology and equipment to best suit any customer's needs. Additionally, she helped Atlas Plumbing become one of the first companies in the area to offer noninvasive plumbing repairs, such as trenchless re-piping.
Mrs. Ray remains affiliated with Service Nation Alliance and credits a large part of her success as a contractor to their ongoing mentorship.
In addition to running both businesses, Mrs. Ray has also been hard at work on a plumbing invention and is hoping to get its patent approved so it can be on the shelves by 2021.
To read the full article discussing Mrs. Ray's recognition, please click here.
Atlas Plumbing is here to assist with any of your plumbing needs. Call our Henderson plumbers at (702) 819-7137 or contact us online to schedule service today.