Your Trusted Plumbing Fixture Since 1980
Let Us Take a Look at the Condition of Your Plumbing Pipes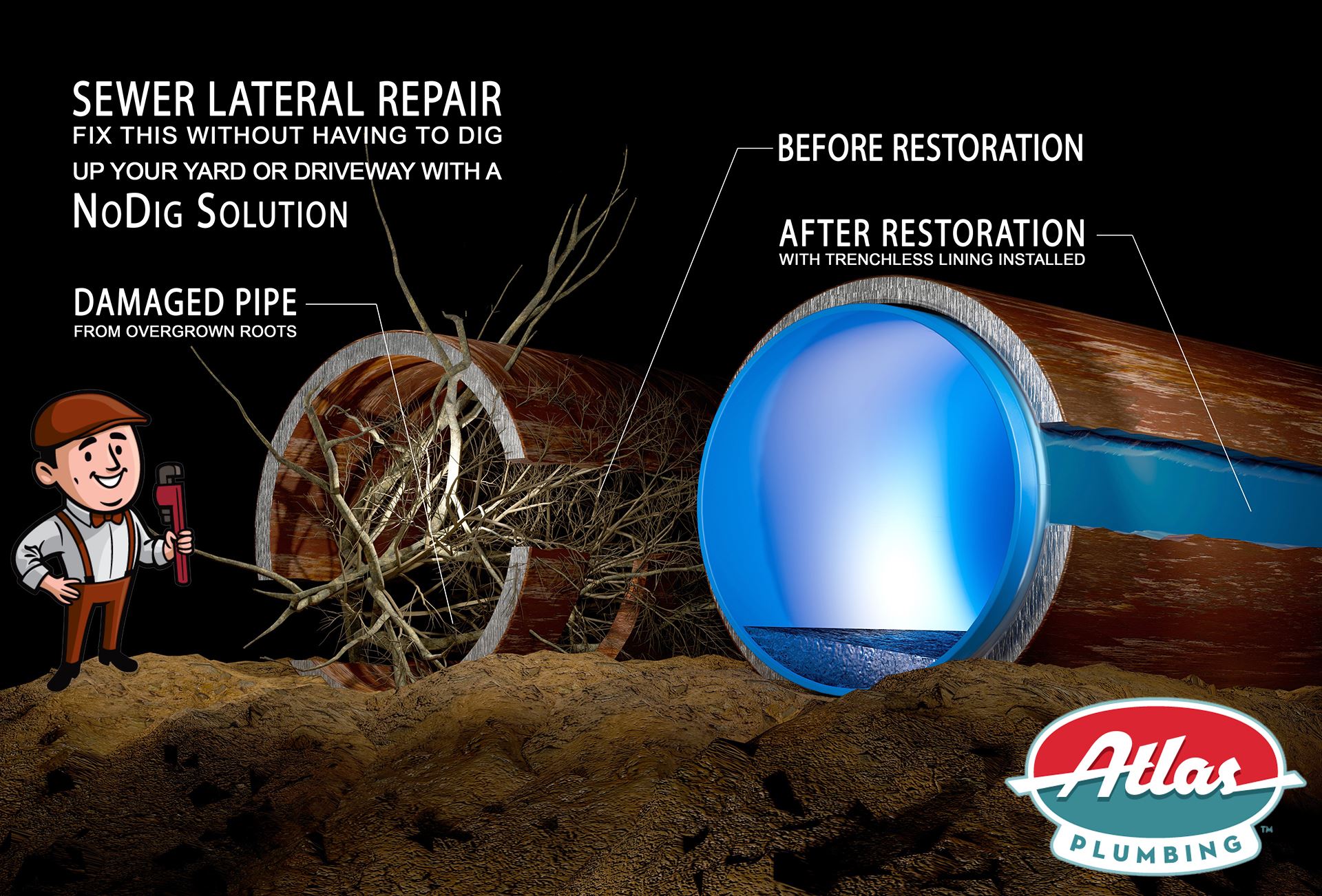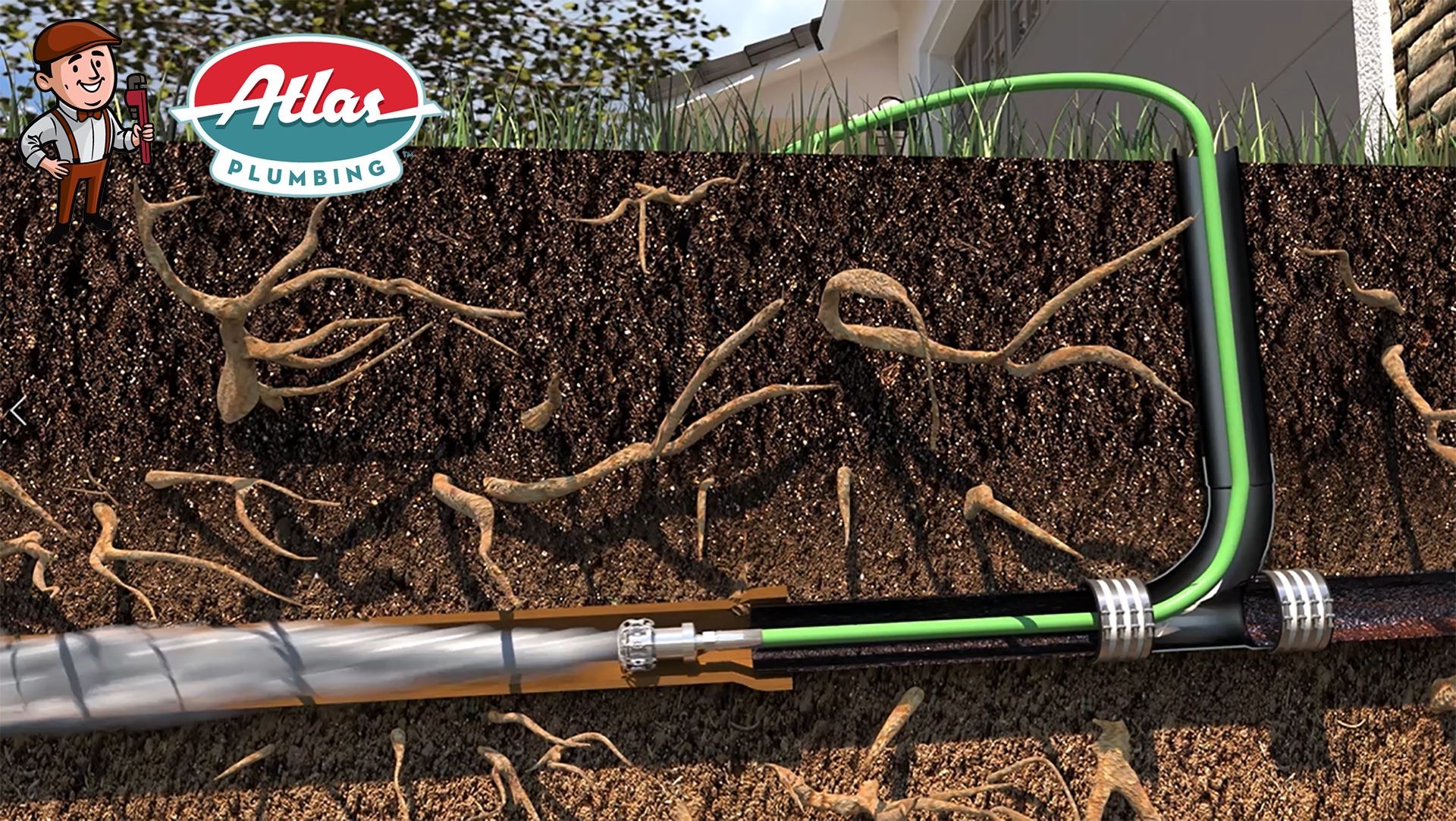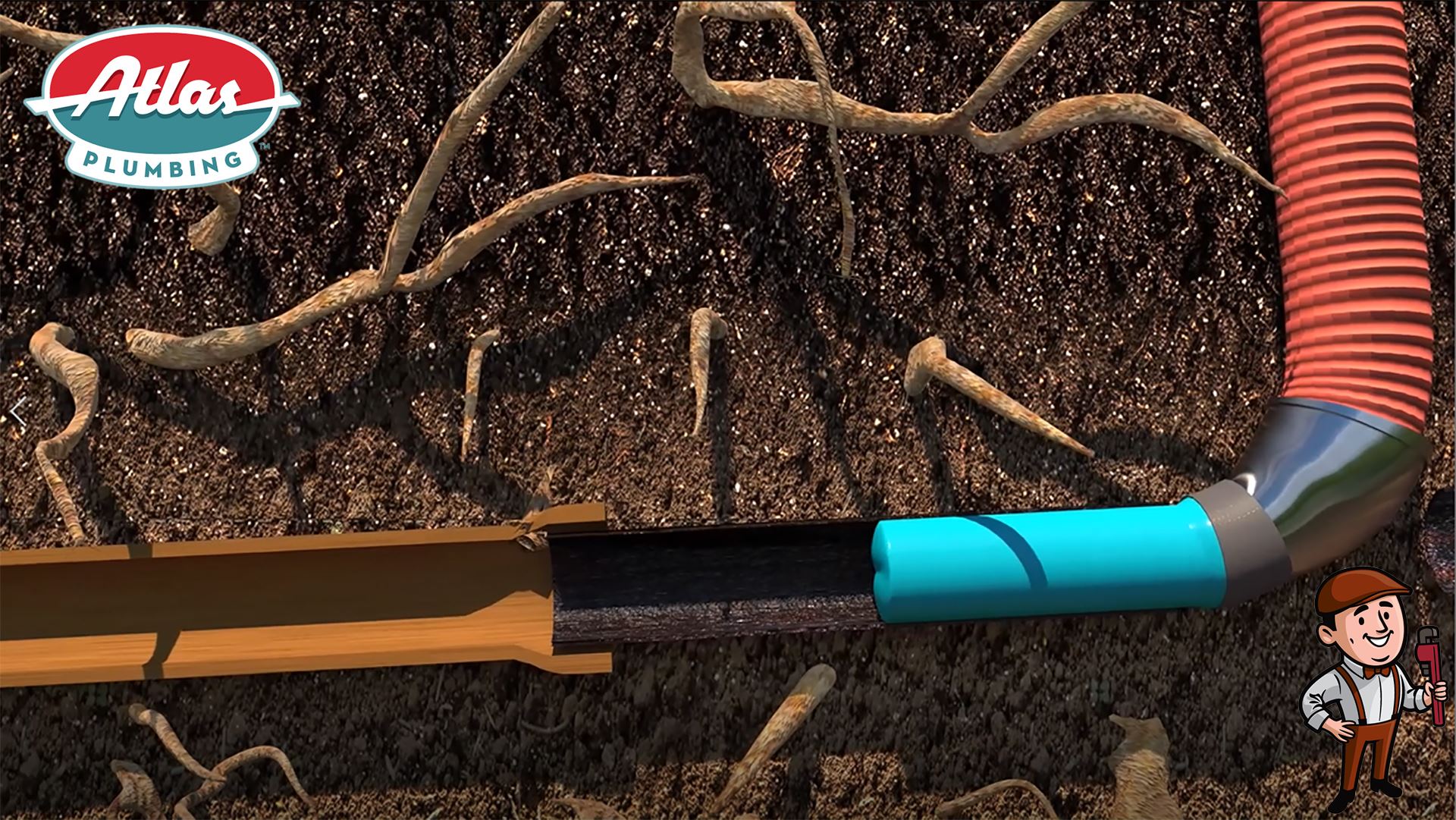 As your home starts to age and mature, the piping in and around it will grow old and start to accumulate various kinds of buildup. This is why it is important to get your pipes checked. Your walls may still be standing strong, your foundation may be holding firm, and your roof may be in great condition, but none of these is an indicator as to the health of the pipes which carry water and waste around your home.
Whether you have something as small as a clogged drain or a major issue like a broken pipe, it's important to make sure you regularly call a skilled Henderson plumber to inspect your plumbing, drains, and sewer lines. With years of experience and a long history of satisfied clients, Atlas Plumbing has earned a reputation as one of the foremost names in the area. We treat your home with the same respect and care that we'd show our own home, and we always do our best to help you make the perfect decision for your home based on your issue and your budget.
---
Call Atlas Plumbing at (702) 819-7137 today to schedule an inspection, maintenance service, or repair for your plumbing problem.
---
Trenchless Pipe Lining Services
One of our newest technologies is Cured-In-Place Pipe Lining (CIPP), a process that repairs an old or worn-out drain or sewer line without the tedious process of digging it up and removing it from your yard. The process involves feeding a special fabric lining doused in resin into your old pipe and then inflating it, so it completely fills the area in your old drain line. Once the resin dries, your new pipe attaches to your old plumbing system and serves your home for several more decades. This minimally invasive technology can save you enormous amounts of time and even money on repair costs by reducing the amount of reconstruction or remodeling needed once the service is complete.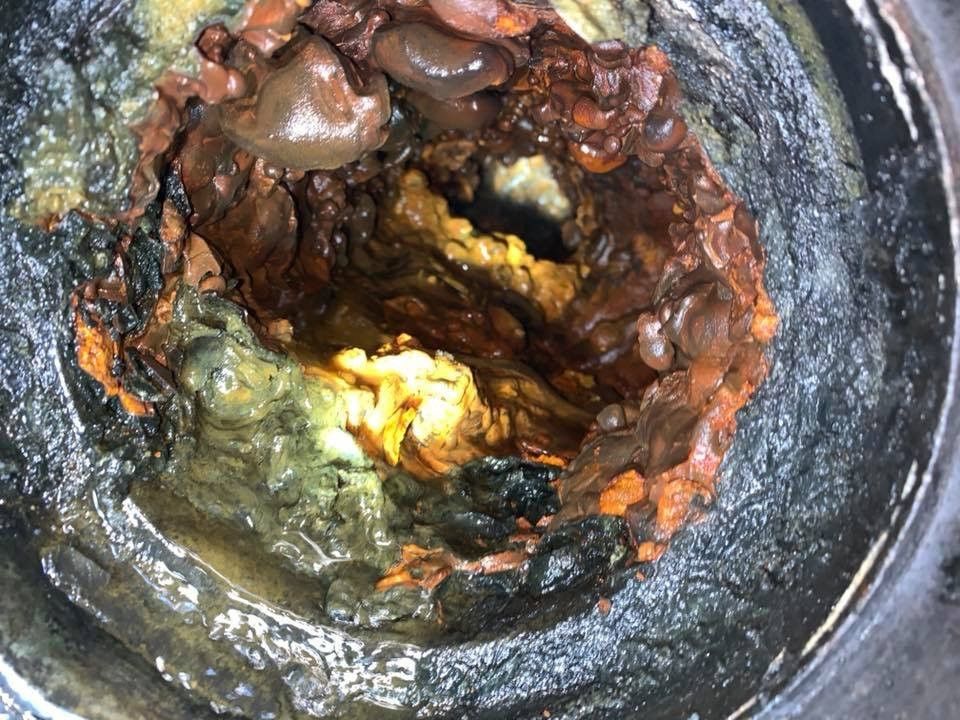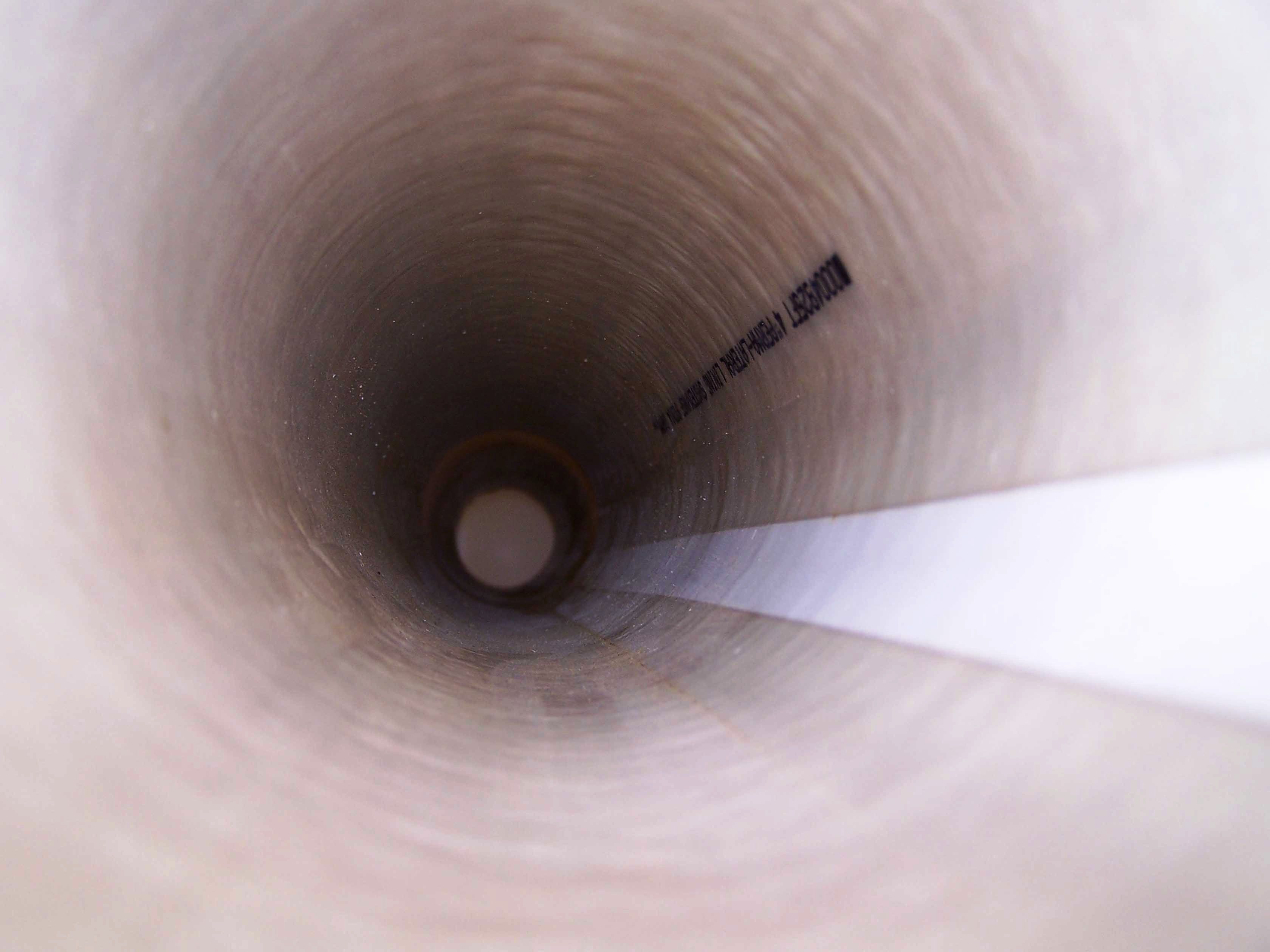 In the pictures above, the pipe on the left is what a sewer line can look like after several decades of service: corroded, worn-out, rusty, and full of clog-creating gunk that causes headaches. There may also be holes in your pipe, scale, and so much more. The picture on the right is a similar pipe after a trenchless pipe relining service is performed on it—smooth, clear, and looking like it did the day it was first installed!
The Cured-in-Place Pipe (CIPP) Lining Process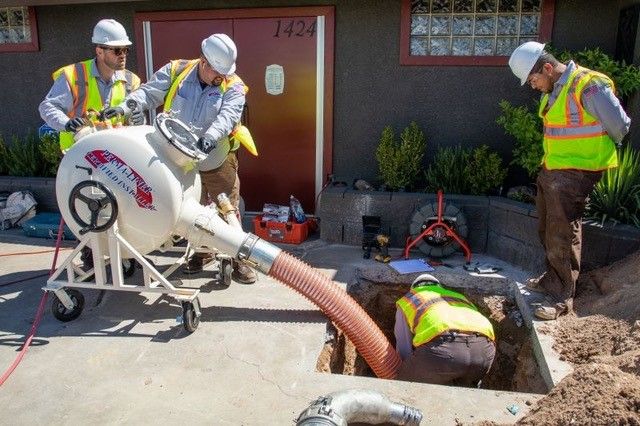 Our Henderson piping experts always perform our work with the utmost care and professionalism. When it comes to CIPP lining, we follow a proven process, ensuring excellent and lasting results.
How do we conduct our pipe lining process?
Camera inspection – During this initial inspection, we'll snake a camera down your drain lines to find and document any issues such as tree root intrusion, blockages, cracks, etc. This will also allow us to create a layout drawing of your sewer system before we begin work.
Sewer line cleaning and preparation – We'll prepare your sewer lines by giving them a thorough cleaning using either mechanical methods or hydrojetting.
Installation of pipe liner – Once we've removed all debris from the pipe, we'll measure and cut a brand-new liner, coat it with epoxy, and insert it into the pipe. Using an inflatable bladder, the liner will press up against the inside of the existing pipe, and once cured, your pipe will be as good as new!
Branch reinstatement – Any pipe branches that were covered over with pipe liner will be reopened.
Pipe Lining Technology from Plumbers in the Las Vegas Valley
Whether your pipes have simply worn out with age after a few decades of service or they've encountered a problem with a hazard like tree roots, mud, clay, or even rocks, our team of skilled plumbers can identify your issue and recommend the ideal solution. The time is now to take care of your pipes to ensure your drain and sewer lines are clean and healthy.
---
Contact Atlas Plumbing at (702) 819-7137 to book your service appointment today!
---
Get The Inside Scoop on Our Commitment to Excellence
Read Our Customers' Reviews
"People were nice, knew their stuff and price was reasonable. They are our new family plumber!"

- Gary P.

"I was impressed from the moment I called this business. A live person picked up the phone. Crew was exceptional in every way. I will specifically request them for our future projects."

- Alura J.

"The work was beautiful, I could not be happier with the results, great bunch of technicians."

- Al A.

"Now comes the icing on the cake.... He refused any sort of payment!!! Not even a voluntary gratuity for his time and advice!!! He told about his company's policy of "Free Estimates"."

- Francisco R.

"The communication by Atlas was excellent...timely and very personable....it's refreshing to have excellent customer service these days!"

- Denise K.

"These are the most honest, affordable plumbers I've ever met!"

- Amanda Dixon
Old-School Values
Serving You With Integrity
1-Year Warranty

Honest Pricing

No Charge for Weekend Service

Family Owned & Operated