Your Trusted Plumbing Fixture Since 1980
Giving You the Bathroom of Your Dreams
Are you sick of looking at the bathtub in your bathroom that you never use? Do you struggle to get in and out of your tub when it comes time to bathe? The team here at Atlas Plumbing is here to help. We provide professional tub to shower conversion services in Henderson. When you trust our highly trained technicians to handle your bathroom remodel, you can say goodbye to your outdated bathtub and enjoy a much more accessible, aesthetically pleasing bathing solution.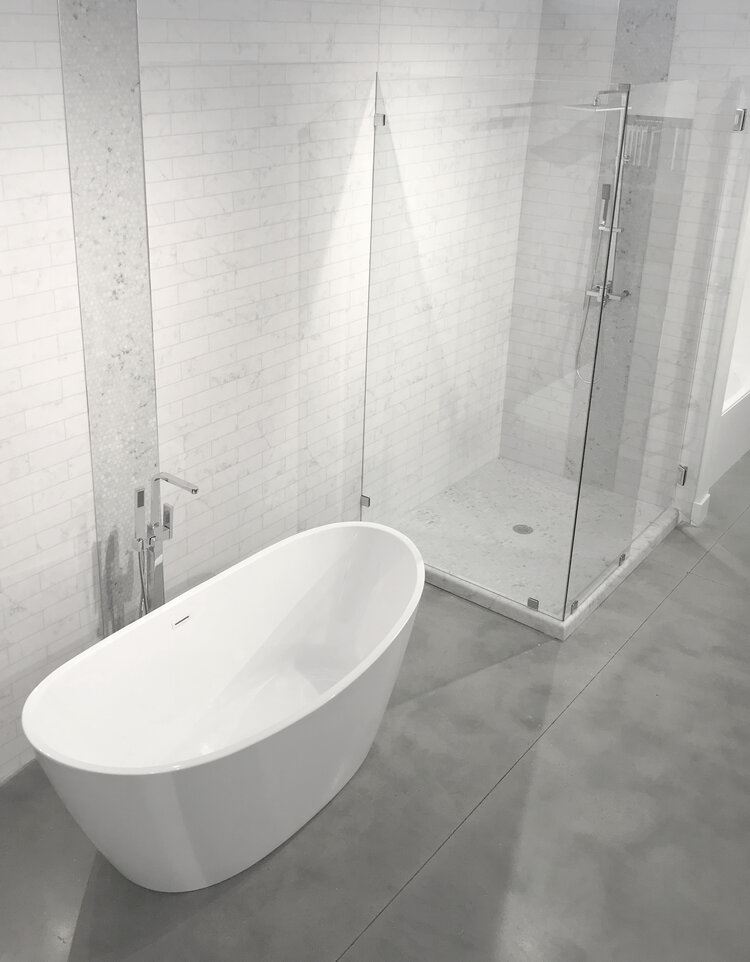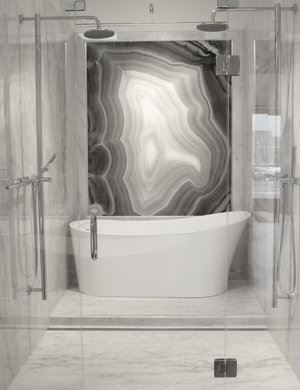 ---
Call (702) 819-7137or contact us onlineto learn more about how we can transform your bathroom.
---
Customize Your Shower System
Our team here at Atlas Plumbing offers a wide selection of shower systems. No matter the shape, size, or condition of your current bathroom, we have the expertise, top-quality materials, and advanced equipment to quickly convert your bathtub to a shower system, so you can get straight to enjoying your dream bathroom.
We understand that settling on the right design for your shower system is crucial. From the décor to the patterns to the design, every detail in your bathroom works together to make something that is uniquely yours. Our customized shower systems are available in a wide variety of patterns and colors, so you are guaranteed to find something you love.
Our wall impression patterns include:
Cobblestone
Flagstone
Herringbone
Hexagonal
Hopscotch
Milano
Roman
Subway tile
The above wall patterns come in a variety of colors, including:
Almond
Arctic Ice
Biscuit
Canyon Rock
Sandalwood
Sandbar
Sierra Sand
White Slate
White Travertine
White
Gray
Platino Granite
San Michele
Taffeta
Santa Cruz
Basket Weave
Our tile patterns include:
Wainscot Beadboard
4 x 4
8 x 8 Textured
10 x 10 Rosettes
12 x 12 Roma
Piazza
Smooth
3 x 8.5 Subway
To make the selection process easier, our qualified bathroom remodeling experts will walk you through all of your options and offer our professional advice. Once we select the perfect impressions, patterns, and tiles, we will carefully measure your bathroom and perform expert installations to ensure your new products fit perfectly. Then, we will help you select top-quality, customizable bathroom accessories to truly bring your project together.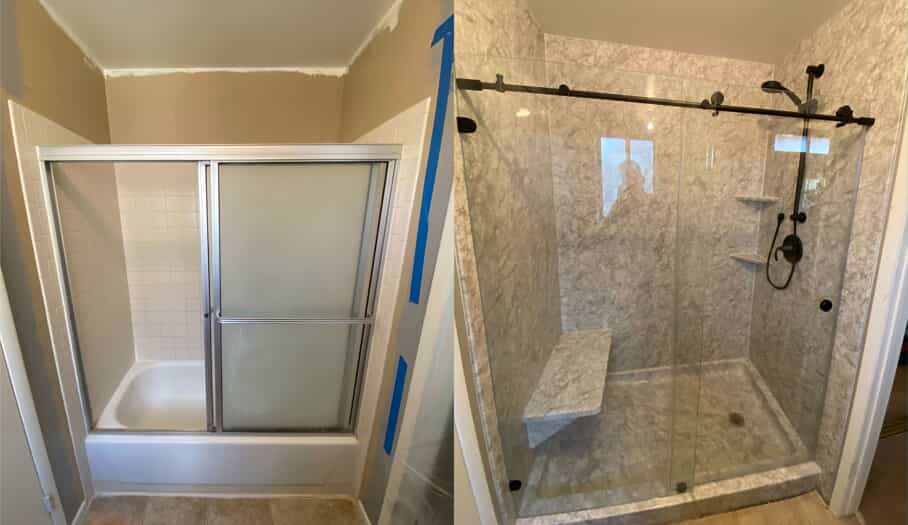 Types of Remodels
Tub to Shower Conversion
Shower to Tub Conversion
Tub to Tub update
Shower to shower update
"PARTY SHOWER" Conversion
Tub/Shower Doors
Semi Frameless
Full Frame
Pivot door
Free standing Glass Panel(s)
Colors
Accessories
Glass Thickness Door Shading & Designs
Tub Styles
Free standing
Drop in place
Jetted tub
Standard
Colors
Accessories
Material Types
Providing Healthier, Cleaner Showers in Henderson
Because our bathrooms are exposed to a ton of moisture, it is quite easy for harmful mold and mildew to grow. Luckily, our shower systems are designed with your safety in mind. Each of our systems has Microban® antimicrobial protection, which effectively inhibits the growth of mold, mildew, and other microbes. In addition, the materials we use are of the highest quality, which means you can expect your shower system to function perfectly for many years to come.
For over 40 years, Atlas Plumbing has proudly served the members of our community. We take offering quality plumbing services very seriously, which is why you can count on us to provide you with the bathroom of your dreams. When you call on our team for tub to shower conversions in Henderson, we will work closely with you to understand your vision, select the shower system that best fits your style, and bring your vision to life.
To get started, call (702) 819-7137. Our team looks forward to serving you!
Get The Inside Scoop on Our Commitment to Excellence
Read Our Customers' Reviews
"People were nice, knew their stuff and price was reasonable. They are our new family plumber!"

- Gary P.

"I was impressed from the moment I called this business. A live person picked up the phone. Crew was exceptional in every way. I will specifically request them for our future projects."

- Alura J.

"The work was beautiful, I could not be happier with the results, great bunch of technicians."

- Al A.

"Now comes the icing on the cake.... He refused any sort of payment!!! Not even a voluntary gratuity for his time and advice!!! He told about his company's policy of "Free Estimates"."

- Francisco R.

"The communication by Atlas was excellent...timely and very personable....it's refreshing to have excellent customer service these days!"

- Denise K.

"These are the most honest, affordable plumbers I've ever met!"

- Amanda Dixon
Old-School Values
Serving You With Integrity
1-Year Warranty

Honest Pricing

No Charge for Weekend Service

Family Owned & Operated