Your Trusted Plumbing Fixture Since 1980
Henderson Walk-in Bath Tub Installation
Providing Assistance to the Elderly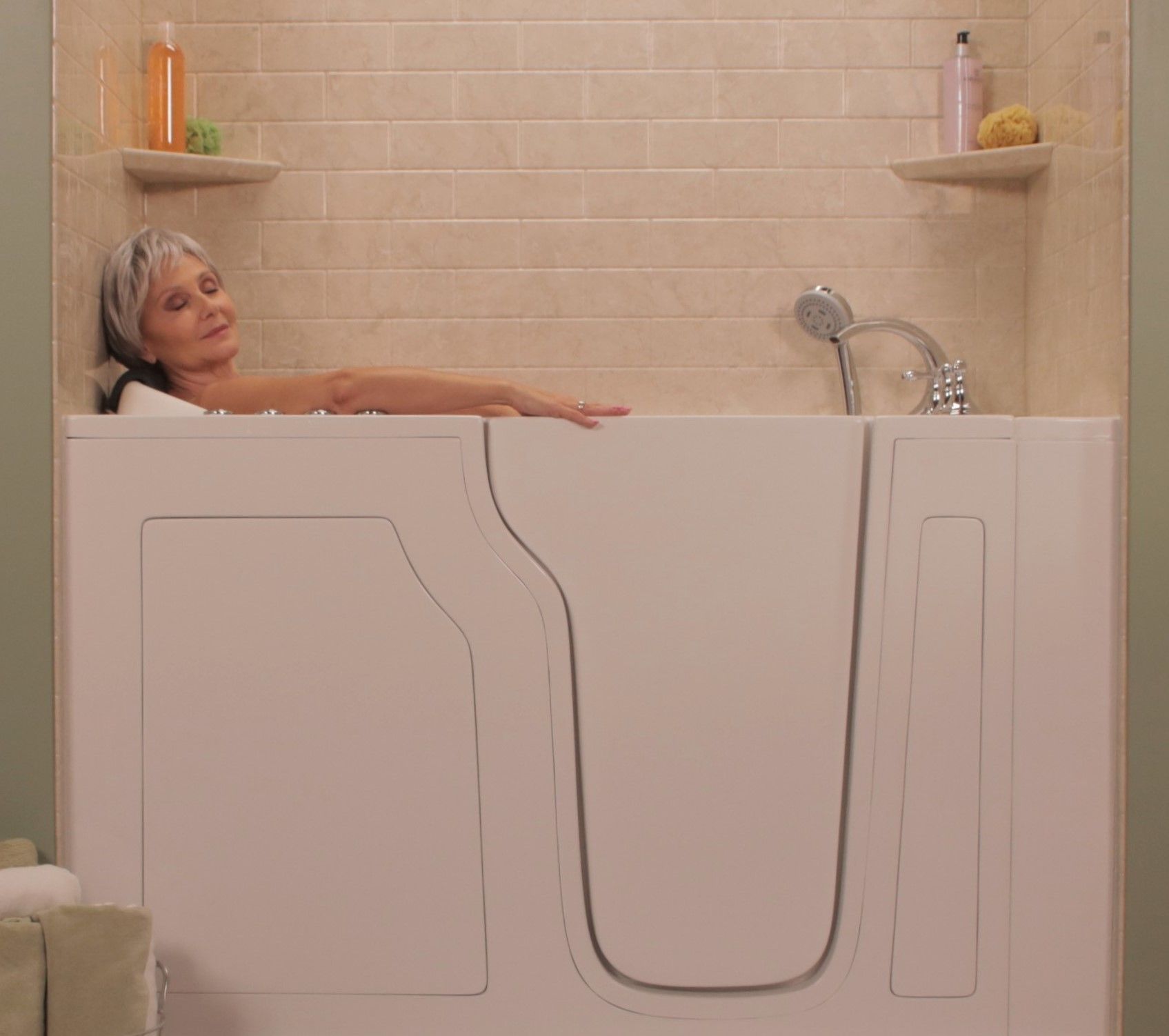 Any room with water in our home can become a dangerous place for our elderly family members. The risk of them sustaining injuries and accidents such as a slip and fall is simply higher than most. Whether you are a senior citizen and living independently, or you have a family member living with you or one that frequently visits your home, Atlas Plumbing can help make your bathroom and kitchen more accessible to the elderly with walk in showers for seniors.
Our Henderson walk-in bathtub installation experts love our seniors in the Las Vegas Valley and want to help them improve their quality of life through outstanding plumbing services.
---
Give us a call at (702) 819-7137to schedule a walk-in bathtub installation in Henderson or to learn more about the plumbing assistance we provide for senior citizens!
---
Tub Styles
Free standing
Drop in place
Jetted tub
Standard
Colors
Accessories
Material Types
Benefits of Installing a Walk-In Bathtub
If you or an elderly loved one are dealing with mobility issues, walk-in bathtubs can make bathing a much easier and safer experience. By design these are much safer than traditional tubs because they are able to be entered by stepping over a low threshold. These tubs are equipped with a variety of safety features such as handrails, seats, and textured pads to help prevent users from slipping and to help keep their heads above water. Walk-in bathtubs are much safer than traditional bathtubs, making them the preferred choice for senior citizens.
Advantages of walk-in bathtubs:
Increased safety - this is by far the most important feature. Walk-in bathtubs can give you peace of mind knowing that your loved one has a reduced chance of injuring themselves in the tub
Symptom relief - walk-in bathtubs can have soothing effects on conditions such as diabetes, arthritis, or general muscle pain
Improved circulation - walk-in tubs can improve blood circulation which can in turn help improve mobility
At Atlas Plumbing, our team cares deeply about the well-being of our senior citizen clients. We want to keep you and your loved ones safe. Give us a call to learn more about our walk-in bathtub installations in Henderson & the surrounding Vegas communities.
Remodeling Services We Offer For Senior Citizens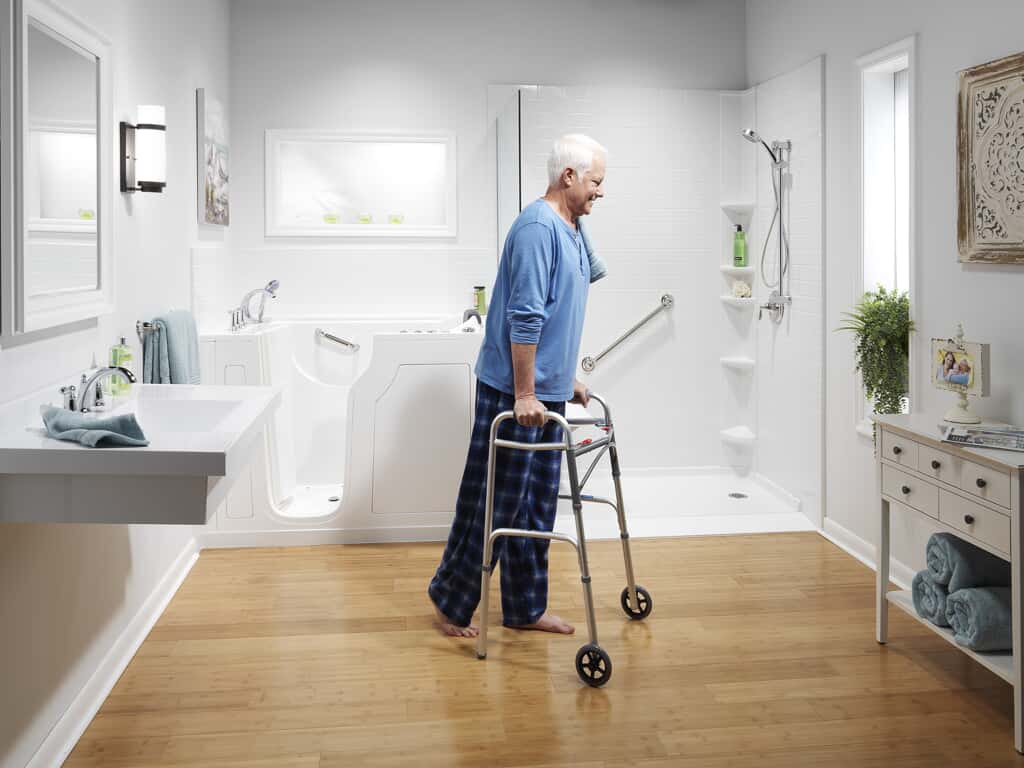 Hundreds of elderly patients are brought in the E.R. year after year as a result of accidents in the bathroom or kitchen. Fortunately, Atlas Plumbing has a wide range of senior citizen plumbing services for any of your purchased ADA compliant plumbing fixtures. We are here to help keep Henderson-area senior citizens safe, allowing them to live more independently.
To keep your elderly family member safe, our team can:
Install handrails in the shower and by the toilet
Install high-rise or elevated toilet seats
Add automatic flush features and bidets to the toilet
Replace bathroom rugs to anti-slip mats
Install a walk-in tub or shower
Installing jacuzzi tubs
Preset the water heater
Add a waterproof shower or tub seat that comes with flexible shower nozzle holders and accessory baskets
Extend the shower heads and hoses
Add nighttime lighting such as motion sensor or path lighting
Install accessible bathroom and kitchen faucets such as lever-style or motion sensor
We can also remove cabinets and lower sinks and vanities for easier access. For commercial properties with public restrooms, our team can install ADA compliant bathroom stalls, motion-sensor faucets, and automatic air dryers.
Get Discounts & Specials
Atlas Plumbing provides upfront pricing before we start any work and offers special discounts to our senior customers. You can also trust each member of our team—we are honest, respectful, and friendly toward the elderly. We are here to take care of you and your family members.
For more information about our Henderson plumbing services for senior citizens, or to schedule an appointment for walk-in bathtub installation, call us at (702) 819-7137or contact us online.
Get The Inside Scoop on Our Commitment to Excellence
Read Our Customers' Reviews
"People were nice, knew their stuff and price was reasonable. They are our new family plumber!"

- Gary P.

"I was impressed from the moment I called this business. A live person picked up the phone. Crew was exceptional in every way. I will specifically request them for our future projects."

- Alura J.

"The work was beautiful, I could not be happier with the results, great bunch of technicians."

- Al A.

"Now comes the icing on the cake.... He refused any sort of payment!!! Not even a voluntary gratuity for his time and advice!!! He told about his company's policy of "Free Estimates"."

- Francisco R.

"The communication by Atlas was excellent...timely and very personable....it's refreshing to have excellent customer service these days!"

- Denise K.

"These are the most honest, affordable plumbers I've ever met!"

- Amanda Dixon
Old-School Values
Serving You With Integrity
1-Year Warranty

Honest Pricing

No Charge for Weekend Service

Family Owned & Operated