Henderson Bathroom Remodel
Your Go-To Team for Bathroom Remodeling in Las Vegas
In Henderson, many of the bathrooms are designed in such a way where the bathtub is installed adjacent to the shower. Usually, this makes it extremely difficult when it comes time to bathroom remodeling.
But at Atlas Plumbing, we create custom designs that make updating your bathroom easy, regardless of the layout. This means that obtaining the bathroom of your dreams is more affordable, faster, and simpler than ever before. Do away with that old, outdated design, and step into a clean, modern look with the help of our plumbers. We partner with Power Play Consumer Financing to make your life easier!
All of our work comes with a one-year warranty. To schedule service, call our plumbers at (702) 819-7137 or contact us online.
Allow Us to Remodel Your Bathroom
There Are Endless Possibilities
Quality Bathroom Remodels in Henderson, NV
Due to our access to innovative product lines and technologically advanced designs, we can design and construct the bathroom of your dreams. Whether you want to make your tub more accessible for senior family members, or you're looking to optimize for storage space, you have a ton of options to choose from.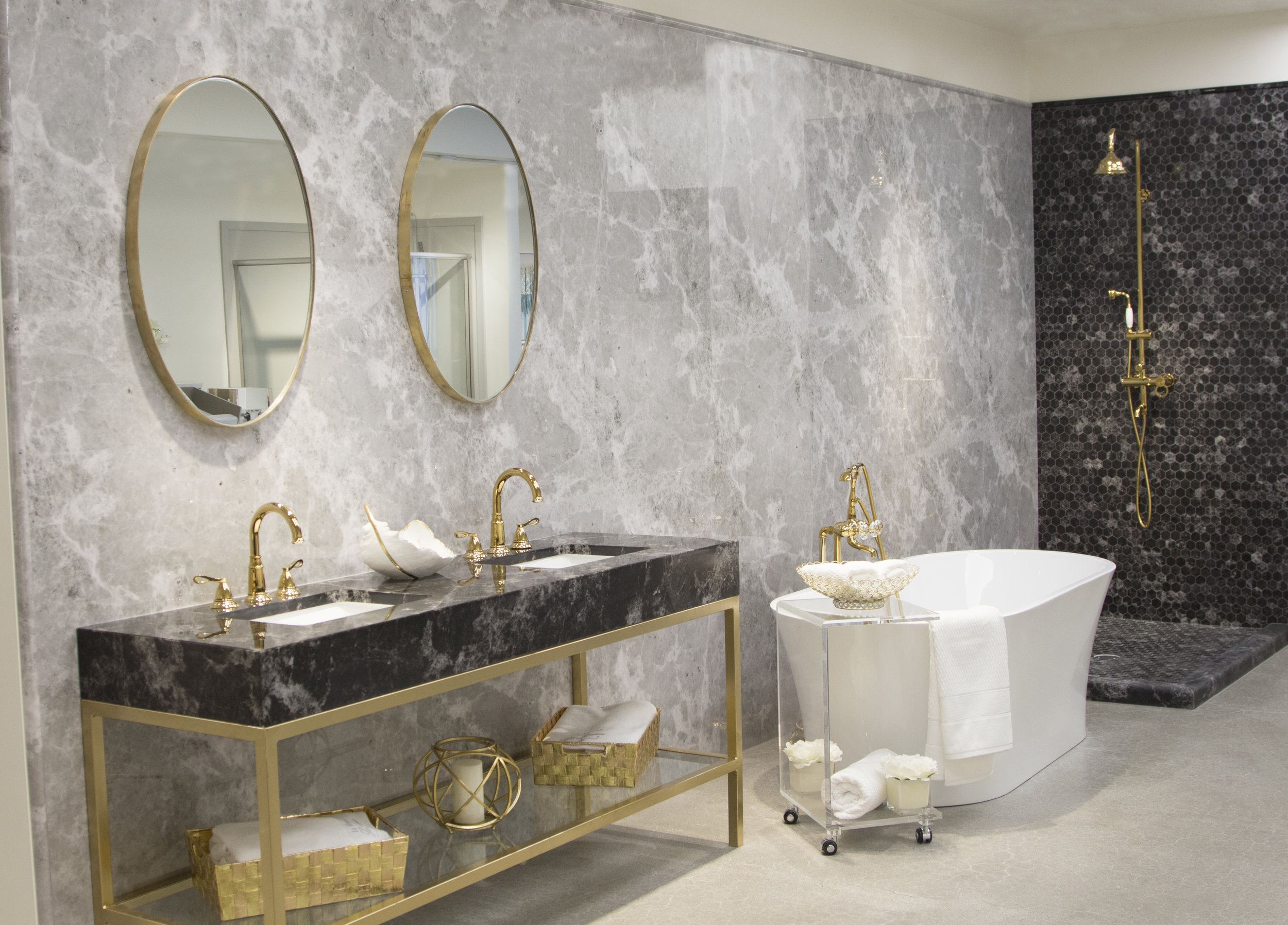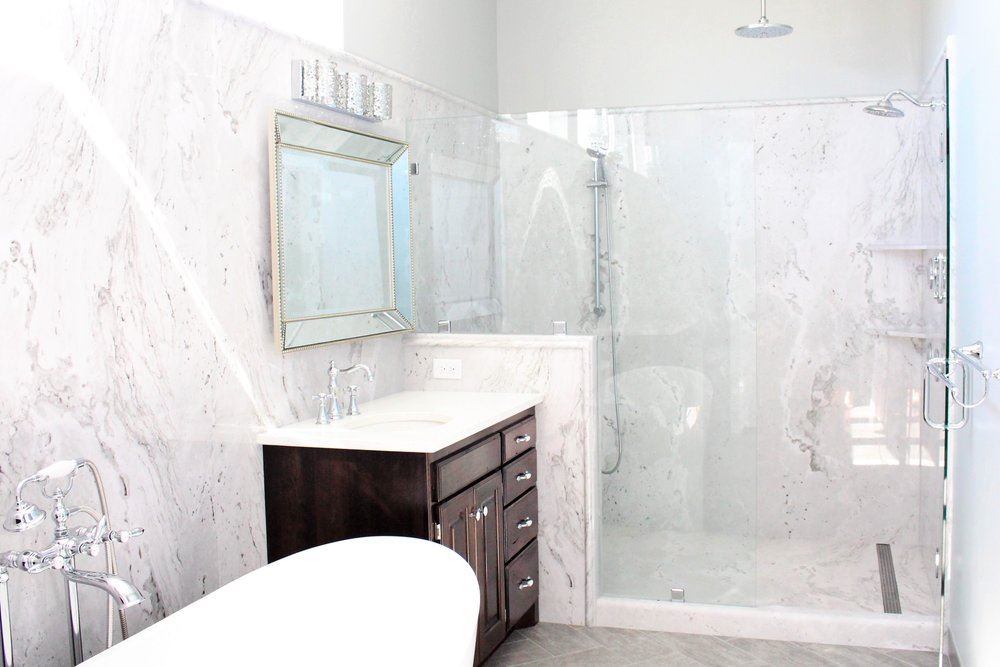 Upgrade Your Bathroom with Atlas Plumbing Today​
​​At Atlas Plumbing, we want to ensure that we're thinking about customers of all ages, including seniors. As people age, their mobility starts to decrease, and it becomes more difficult to step into a high sided tub. Fortunately, we offer a line of aesthetically pleasing and accessible products, including barrier-free showers and walk-in tubs. We can even install optional accessories, such as grab bars or whirlpool jets. Our team wants you to enjoy your bathroom for years to come.
If you are looking to upgrade your current bathroom through professional bathroom remodeling services in Las Vegas Valley, then look no further than Atlas Plumbing. We use the latest technology and equipment to ensure that we can make your vision a reality. Our team of experts has years of experience and knows exactly what to do to get the job done right the first time around. No bathroom remodel is either too big or too small for us to handle - trust us to transform your bathroom in Henderson to the bathroom of your dreams.
Our Bathroom Remodeling Process
In Home Consultation & Free Custom Design
Proper Work Area Containment & Safety Preparation
Removal & Disposal of Existing Fixtures
Update Current Plumbing, Drainage & Connections
Rebuild Waterproof Wall Surround & Frame in Custom Features
Professionally Install Custom Crafted Wall Panels
Mount & Install Accessories and new Designer Fixtures
Test, Verify & Receive Satisfaction Approval
Educate "How to Operate" & Review Post Care
Provide Warranty Information
Types of Remodels
Tub to Shower Conversion
Shower to Tub Conversion
Tub to Tub update
Shower to shower update
"PARTY SHOWER" Conversion
Custom Remodels
Grout Free Wall Systems
Composite Stone Panels
Tyvarian – About
Benefits
Colors
Patters
Custom Designs
Acrylic Walls
Prime Bath – About
Benefits
Colors
Transition Wall & Tub Paneling
TT
Wainscot
Tub/Shower Doors
Semi Frameless
Full Frame
Pivot door
Free standing Glass Panel(s)
Colors
Accessories
Glass Thickness Door Shading & Designs
Tub Styles
Free standing
Drop in place
Jetted tub
Standard
Colors
Accessories
Material Types
Shower Floors
No Threshold
Low profile
Roll in Access
Colors
Designs
Texture
Mirrors
High Efficiency LED Mirrors
Storage Mirrors (Medicine Cabinets)
Mounted LED GLAMOR Mirrors
Vanities
Vanity installation service
Vanity Resurfacing
Custom Vanity Tops
Designer Sinks
Mounting, Installation and connections
TRIM/ASSESSORIES/COLOR/FINISH SELECTIONS
Moen Fixtures
"Other" Fixtures
Grab Bars
Custom Shelves
Standard Shelves
Custom Niche
Standard Niche
LED Niche
Custom Bench
Standard Bench
SMART TECHNOLOGY
Steam Showers
Digital Shower Valves
Hands Free
Blue Tooth
---
Contact our plumbers to learn more about what we can do to make your home a better place for you today. You can call us at (702) 819-7137.
---
Plumbers Committed to Customer Service
At Atlas Plumbing, we want to ensure that you get the bathroom of your dreams. This is why we believe in open and honest communication throughout the entire process. Our team will discuss your design ideas and needs with you and come up with a plan to execute them. You will be informed throughout the entire process, and we're always available to talk to should you have a question.
Renovate Your Bathroom Today!
PowerPay provides the lowest monthly payments, no credit cards needed and no prepayment penalties. Apply today to find out if you qualify.
Old-School Values
Serving You With Integrity
1-Year Warranty

To show our commitment to your satisfaction, we warranty our labor on all work performed for 1 year.

Honest Pricing

At Atlas Plumbing we will give you the right price and the service you deserve, every time.

No Charge for Weekend Service

We are available on the weekends for emergency services and we will never charge you extra. 

Family Owned & Operated

Providing plumbing service to the community since 1980. We love what we do.
Get The Inside Scoop on Our Commitment to Excellence
Read Our Customers' Reviews
"People were nice, knew their stuff and price was reasonable. They are our new family plumber!"

- Gary P.

"I was impressed from the moment I called this business. A live person picked up the phone. Crew was exceptional in every way. I will specifically request them for our future projects."

- Alura J.

"The work was beautiful, I could not be happier with the results, great bunch of technicians."

- Al A.

"Now comes the icing on the cake.... He refused any sort of payment!!! Not even a voluntary gratuity for his time and advice!!! He told about his company's policy of "Free Estimates"."

- Francisco R.

"The communication by Atlas was excellent...timely and very personable....it's refreshing to have excellent customer service these days!"

- Denise K.

"These are the most honest, affordable plumbers I've ever met!"

- Amanda Dixon
Read Our Customers' Reviews

"People were nice, knew their stuff and price was reasonable. They are our new family plumber!"

- Gary P.

"I was impressed from the moment I called this business. A live person picked up the phone. Crew was exceptional in every way. I will specifically request them for our future projects."

- Alura J.

"The work was beautiful, I could not be happier with the results, great bunch of technicians."

- Al A.

"Now comes the icing on the cake.... He refused any sort of payment!!! Not even a voluntary gratuity for his time and advice!!! He told about his company's policy of "Free Estimates"."

- Francisco R.

"The communication by Atlas was excellent...timely and very personable....it's refreshing to have excellent customer service these days!"

- Denise K.

"These are the most honest, affordable plumbers I've ever met!"

- Amanda Dixon